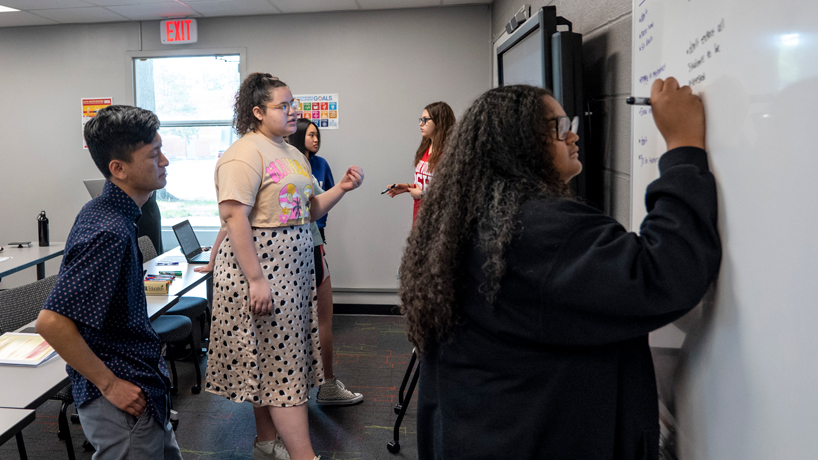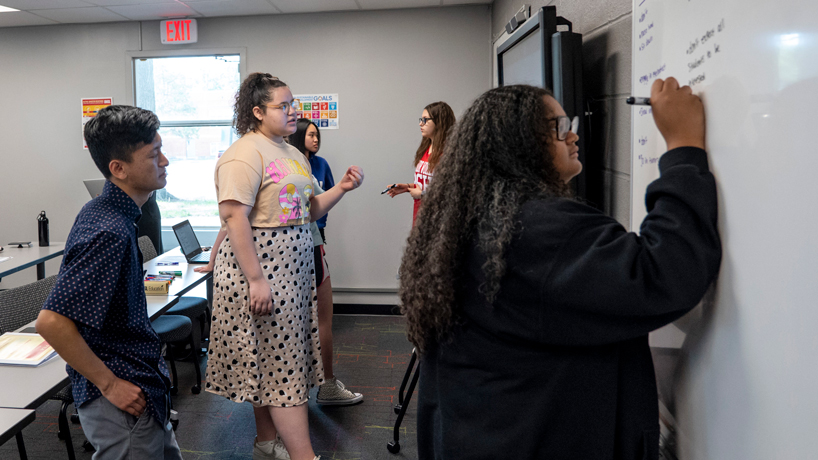 She and her peers had a task: discuss common classroom expectations for educators and examine how those expectations can sometimes be detrimental and, subsequently, reimagined. They eagerly bounced ideas off of each other, documenting them on a handful of whiteboards scattered throughout the room, before sharing with everyone.
"We talk a lot about implicit bias, and I think that's really important to learn, especially going into a teaching career," Smith said, referring to the day's discussion.
The scene was part of UMSL's inaugural Future Teacher Leadership Academy. The free two-week program, which ran from June 13-24, aimed to encourage high school students in the St. Louis region to envision careers in education.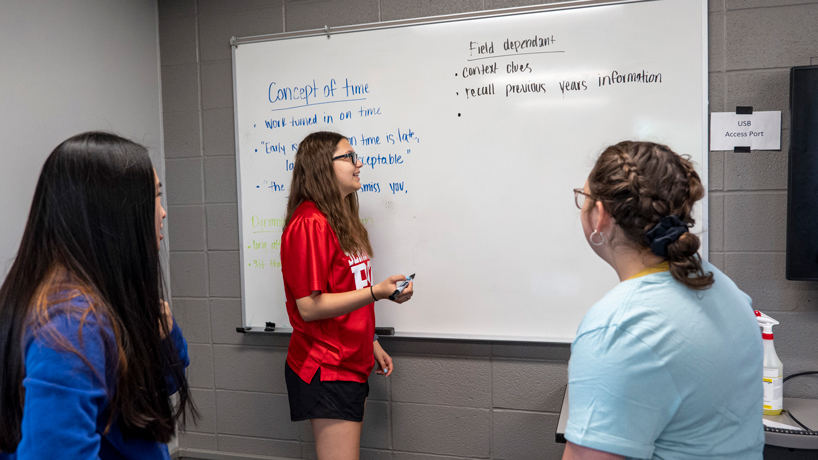 "The UMSL College of Education has a long and successful history of preparing high-quality educators for our region and beyond," College of Education Dean Ann Taylor said. "We are thrilled to further extend our accessible pathways into teaching by providing this programming for those interested in a future career as a teacher. We love working with this eager group of future educators from across the region."
The centerpiece of the program is a dual-enrollment course, "Tch Ed 2000: Becoming a Professional Educator," which ran for 90 minutes each morning. The one-credit class grounded participants in current education practices and informed them about career options and programs offered at the College of Education.
Sessions after the class focused on developing leadership skills and featured a variety of educators who spoke to the students about professional skills, academic preparation and cultural competencies. The two-week schedule also featured a tour of the nearby Lucas Crossing School Complex and meetings with UMSL academic advisors.
David Stofer, recruitment coordinator for the College of Education, said the project grew from a monthly meeting on recruitment and retention with colleagues Chanua Ross, director of program operations; Nancy Singer, associate dean and associate professor; and Julie Smith Sodey, assistant teaching professor.
Intent on exploring more creative ideas to bring high school students to campus, the group began looking beyond traditional open houses. Ross suggested a summer program, which resonated with everyone immediately.
DESE approved the grant this past fall, and Stofer set to work promoting the program at local high schools.
"As a recruitment coordinator, I took that idea and ran with it and reached out to the school districts in the area," Stofer said. "The response was overwhelming from the district leadership. They were so excited because this is what they've been asking for for so long."
He noted that exposing high school students to college can act as a catalyst to further their education and provide a vision for the future, particularly for those who don't come from college-educated families.
"They have to have a chance to get here," he said. "If we can get them on campus, if we can get them to experience what college would be like for them and help them understand that it is something they could do, it is attainable, it's not out of their reach, then they might actually take that seriously and consider that to be a possible reality."
In the interest of accessibility, all costs were covered by the DESE grant and supplemental funding from the university's Strategic Enrollment Plan Committee. Additionally, each student was awarded a $500 stipend for participating.
Rachel Jacklin, a recent graduate of Parkway South High School, has always known she wanted to be a teacher, but the opportunity to earn college credit motivated her to join the program. Smith, who will be a junior at Lindbergh High School next school year, is interested in working with children in the future and thought FTLA would be a good way to explore her career options.
"I was really interested because I was inspired this year by one of my teachers, who pushed my development forward as a person," said Nathan Alano, who will be a senior at Oakville High School. "I wanted to see if I can bring that sort of thing to other students in the future."
For Alano, Jacklin and Smith, the tour of Lucas Crossing School Complex was the highlight of the program. They also enjoyed building relationships with each other and learning about pedagogy, as well as bias in the classroom.
"We've talked about cultural consciousness and how important that is," Jacklin said. "When we're talking about biases, I realize how much of a bias I have and that, 'Hey, I'm going to need to change that, especially going into the classroom.'"
Alano said the experience has helped him gain a better sense of his future.
"I think this program is really just opening up that pathway for me to understand what it means to be an educator," he said. "I think it's really pushing me forward to pursue education as I start moving into the whole college application process."
That's the heart of the program – helping young people in the St. Louis region realize their potential and become the best versions of themselves.
"The College of Education and the vision that everyone has really is incredible, to find ways to make a difference in the lives of the people in this community," Stofer said. "That's, I think, what this is all about. It's a reflection of us wanting to make a difference in the communities that we serve."